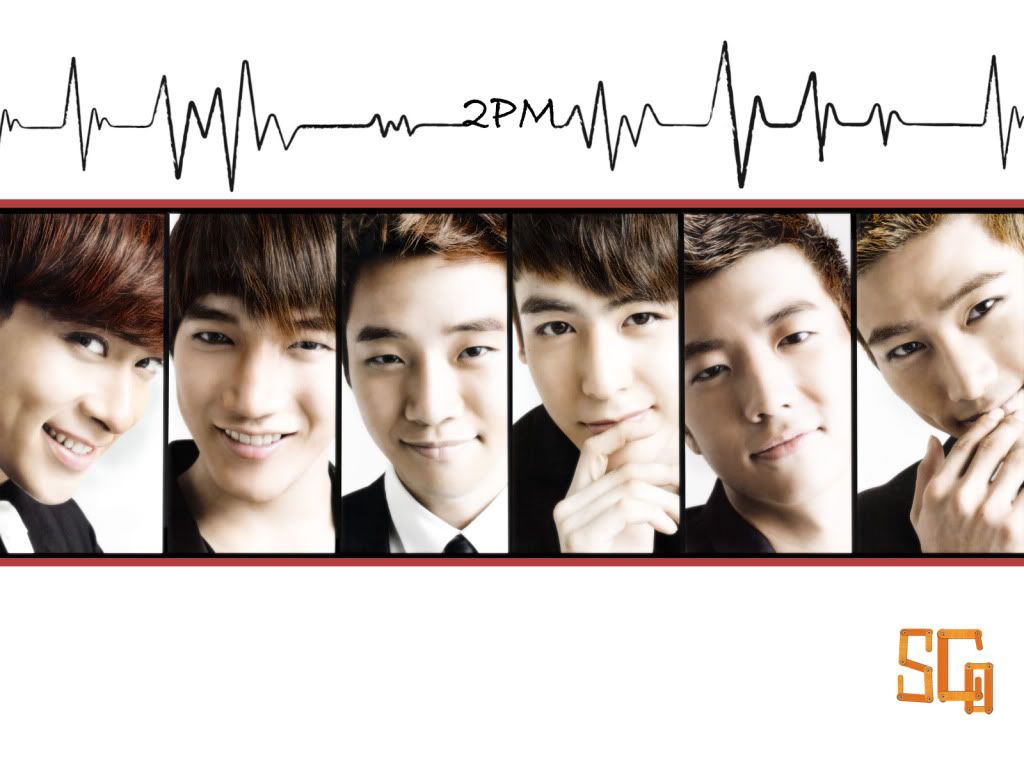 2PM
2PM
is a South Korean
boy band
, originally a seven-member group, but currently consisting of six members
[

1

]
due to the sudden contract termination of leader
Jaebeom
following an Internet controversy in September 2009. They are managed by
JYP Entertainment
. The current members are
Junsu
,
Nichkhun
,
Taecyeon
,
Wooyoung
,
Junho
and
Chansung
.
2PM is made by Korean musician Park Jin Young after GOD for the first time in 10 years to launch boyband. 2PM is one of the two subgroups branched out from the eleven-member (before Jaebeom's departure) boy band One Day, the other being
2AM
. They debuted with the song "10 Jeom Manjeome 10 Jeom" (
10점 만점에 10점
, lit.
10 Points Out of 10 Points
), which showcased their acrobatic dance styles.
[

2

]
They achieved their first No. 1 song with "Again & Again".
2PM



2PM Performing a concert, in April 2011




L-R:Junho, Chansung, Junsu, Taecyeon, Nichkhun, Wooyoung

Background information
Origin
Seoul, Republic of Korea
Genres
K-pop, Dance, Hip-hop, R&B, Pop
Years active
2008–present
Labels
JYP Entertainment (South Korea)
Sony Music (Thailand)
Ariola Japan (Japan)
United Asia Management
Associated acts
One Day
2AM
JYP Nation
Website
2pm.jype.com
Members
Junsu
Nichkhun
Taecyeon
Wooyoung
Junho
Chansung
Past members
Jaebeom
History
Pre-Debut
The members of 2PM all auditioned (except Nichkhun, who was scouted.
[

3

]
) to become part of JYP Entertainment. Some members already had experience in the entertainment industry prior to their acceptance into JYP Entertainment, such as Kim Junsu, who had won various singing competitions, and Ok Taecyeon, Lee Junho and Hwang Chansung, who had participated in the show 'SuperStar Survival'.
2PM's and
2AM
's training days were filmed in a documentary called
Hot Blood Men
, which aired on Mnet. The show documented the time by time training program of the JYP trainees who were to be part of the group "One Day", as well as the elimination of three trainees from the group during the time.
2008: Debut and early success
Unlike other Korean record labels,
JYP Entertainment
opted to brand them with a more mature than "pretty-boy" (in Korean
ggotminam
) image.
[

4

]
2PM debuted with their single "
10 Jeom Manjeome 10 Jeom
" (
10점 만점에 10점
, lit. 10 Points Out Of 10 Points) on 4 September 2008. On 17 October 2008, they began promotion of "Only You", another song from their debut mini album "Hottest Time of the Day."
On 16 April 2009, the group released their second mini album
2:00PM Time For Change
, which they began promoting on 23 April. In May they won their first Mutizen Song award on
M!Countdown
, followed by two more and a
Music Bank
award. On 11 June, 2PM began promotions for "Niga Mipda" (
니가 밉다
, lit.
I Hate You
) on
M!Countdown
. In July 2PM achieved first place on the
M!Countdown
and
Music Bank
charts for the song "Niga Mipda". On 30 July, 2PM won the 'Only One Song' award on M!Countdown.
2009: Controversy and rise to prominence
2PM at press conference in Bangkok, in February 2009
On 4 September 2009, articles surfaced on the internet regarding Jaebeom's posts from 2005 on his personal Myspace account, in which he expressed his dislike for Korea while still a trainee for
JYP Entertainment
. Jaebeom issued an apology regarding this matter.
[

5

]
Although outraged protesters demanded that Jaebeom should be forced out of 2PM, JYP Entertainment CEO
Park Jin-young
stated on 7 September that he was going to continue to remain part of the group.
[

6

]
The following day, Jaebeom announced on his official fancafe that he would be leaving the group and returning to the United States, with plans of going back to school and bettering his understanding of music, and also apologized to the other 2PM members for not being a good leader and older brother to the group.
[

7

]
Park Jin-young has confirmed that he will respect the singer's decision, and that 2PM will continue on as a 6-member group.
[

1

]
[

8

]
Additionally, due to the sensitive topic of Jaebeom's departure, all 2PM members were withdrawn from their regular appearances on variety shows.
[

9

]
The group finished re-filming their music video for "Heartbeat", the title song of their first full-length album, without Jaebeom on 31 October 2009. During a press conference, it was revealed that Jaebeom's vocals would not be removed from the songs.
[

10

]
The day after the now 6-member 2PM's full-length album was released, Park Jin-young released a statement that Jaebeom would return as a member of 2PM if he wanted to make a comeback, while indicating that his return was not imminent.
[

11

]
[

12

]
In further support of Jaebeom's place in the group, the six 2PM members have also decided to distribute their income from their 1st album with him, sending him an equally divided amount of the earnings.
[

13

]
The group's first full length album, titled
1:59PM
, was released on 10 November 2009.
[

14

]
Both the album and title track, "Heartbeat", quickly rose to the #1 position on multiple music sales charts.
[

15

]
The group made their first comeback performance, signifying the beginning of their promotional activities for the album, on M.Net's 'O Good Concert' on Thursday, 12 November 2009,
[

16

]
subsequently making their KBS Music Bank, MBC Music Core and SBS Inkigayo comebacks on Friday, 13 November, Saturday, 14 November and Sunday, 15 November, respectively.
On 20 November 2009, 2PM performed at and was honored with two awards by the
M.net Asian Music Awards
(previously known as M.net KM Music Festival): the award for Best Male Group and Artist of the Year (the latter being one of the three most prestigious awards at the show).
[

17

]
The group paid homage to him during their performance of "Again & Again", in which a spotlight was shown over Jaebeom's usual position in the dance formation and his vocals were not replaced.
[

18

]
On 26 November 2009, after two weeks of promotional activities for the 1:59PM album, 2PM earned their first #1 on a TV music show (KBS Music Bank's "K-Chart") since the album's release, with "Heartbeat",
[

19

]
which went on to take #1 on the K-Chart for three more weeks. In addition, "Heartbeat" achieved the "Mutizen" song award Triple Crown on SBS
Inkigayo
by being the #1 song the Inkigayo "Take 7" chart for three weeks, the maximum amount of time for which a nominated song is eligible to win. On 30 December 2009, at
Korean Broadcasting System
(KBS)'s end of the year Music Festival, "Again & Again" was recognized as "Song of the Year",
[

20

]
winning with 57,060 votes.
2PM's second single off
1:59PM
was "Tired of Waiting". The song was performed live for the first time at the SBS Music Festival on 29 December 2009. 2PM's promotion for the album ended with their SBS Inkigayo performance on 17 January 2010.
2010: Don't Stop Can't Stop
On the cover of KoreAm, August 2010
On 25 February 2010, JYP Entertainment announced that
Park Jaebeom
would not be returning to 2PM, as his contract with the company had been permanently terminated.
[

21

]
A fan meeting/press conference was held two days later with the 6 remaining members of 2PM and JYP Entertainment CEO Choi Jungwook in attendance, where it was announced that although 2PM would continue promoting as 6 members, a new leader would not be chosen to replace Park.
In mid-April 2010, 2PM released image and video teasers for their third single
Don't Stop Can't Stop
, for which the group promised to showcase an even stronger side of themselves than before.
[

22

]
The EP, containing six tracks, was released on 19 April 2010. The lead single,
Without U
, quickly rose to the #1 position on 6 different music charts.
[

23

]
The group made their television performance comeback on Mnet's music program
M! Countdown
on 22 April 2010.
2PM has been confirmed as the opening act for 9
Wonder Girls
summer shows in the United States.
[

24

]
2PM also performed at the 8th annual Korea Times Music Festival in Los Angeles, California on 1 May 2010, and at the Dream Concert in Seoul, South Korea on 22 May 2010.
[

25

]
[

26

]
On 24 May 2010, 2PM released the song "What's Your Celebration?" for the
FIFA 2010 World Cup
.
[

27

]
The song samples
K'Naan
's
Wavin' Flag
.
On 11 July, Taecyeon & Wooyoung left the position of MCs at SBS Inkigayo. And a while after, on 2 August, Wooyoung also left Winwin to concentrated on 2PM's busy schedule. The 1st concerts took place on 31 July, 1 August (in Seoul) & 7, 8 August (in Busan) (2AM & missA were invited as the guests of the concert).
2PM's first concerts were to 12,000 people per show. 2PM performed in turn all their hit-songs since 2008 plus individual members made solo performances. JYPE announced that 2PM will have two encore concerts in Seoul on 4 & 5 September to celebrate their 2nd anniversary.
On 11 October 2010, 2PM released their fourth EP,
Still 2:00PM
,
[

28

]
with the lead single "I'll Be Back" staying at number one for two consecutive weeks in the
Music Bank
.
[

29

]
On 1 November 2010,
Still 2:00PM
debuted unexpectedly on the 13th spot of the
Billboard's World Album-Chart
though no specific promotions for the album were made in the US.
[

30

]
[

31

]
[

32

]
2PM was granted the "Most Popular Asian Singer" award at the Mandarin Music Honors 2010 in China. The boys attended the grand event on 18 October at Wukesong Arena; it was the tenth annual MMH, and was broadcasted on MTV and CCTV in China. Previously, Rain, Jang Nara, and Shin Seung Hoon have each taken home the "Year's Best Korean Singer" award, but this is the first time a Korean artist has won the "Most Popular Asian Singer" award. 1PM performed "Heartbeat" and "I'll Be Back".
[

33

]
2PM officially debuted on Japan on 8 December with their first live event in Japan at the Ryogoku Kokugikan Gymnasium, a place well known for sumo games. The platinum showcase was called the "2PM 1st Contact in JAPAN" LIVE.
[

34

]
2011 : Japanese Album
On 6 March 2011, it was announced that 2PM will release their Japanese Debut-Single "Take Off" on 18 May, which was also featured as an Ending Song for the
Blue Exorcist
anime series.
[

35

]
Due to the major online pre-order of the limited version A, regular version and limited version B of the single, "Take Off" has ranked from No. 1 to 3, respectively, on the pre-order chart of
Tower Records Japan
.
[

36

]
It has also reached No.1 in the USEN's J-Pop Chart. 2PM is the first Korean band that has reached that spot in this particular chart.
[

37

]
2PM's first Japanese concert tour–entitled '2PM 1st Japan Tour 2011 'Take Off" began in Sapporo on 6 May and ended on the 13th in Tokyo.
[

38

]
After 2PM's first venture to the Japanese music market, JYP Entertainment released the tracklist of their upcoming second studio album entitled "Hands Up" on 12 June 2011.
[

39

]
One day later,
MTV Korea
announced the release date of the album as 20 June.
[

40

]
The MV for the title track was filmed in Singapore and for the first time, the album featured two songs composed by 2PM members: "HOT" by Junsu and "Give it to Me" by Junho.
Hands Up got the "all-kill" crown on all of the major charts. Not only has their title track landed at the number one spot, several of their ancillary songs on their album also managed to place on the charts as well.
[

41

]
The promotions ended on Sunday, 24 July, with a total of only 1 month after its release in order for the boys to prepare for their Japanese promotions and their 'Hands Up Asia Tour'.
[

42

]
Starting in July, "2PM Show" will broadcast on SBS's E!TV cable channel with all six members, and it will mark the first time 2PM emcees a program with their name on it.
[

43

]
On 30 November 2011, 2PM released their first studio album in Japanese language,
Republic of 2PM
. It contains all their Japanese singles released so far (Take Off, I'm Your Man and Ultra Lover) plus the Japanese version of their most recent Korean hit song "Hands Up", as well as a new song composed by Junsu for Japanese fans called "Hanarete Itemo," and 4 other completely new songs. The main point of the album artwork motif is a taste of the 50's and 60's.
Oricon released their sales for 2011, announcing that 2PM was the 2nd best selling new artist in Japan, only behind
Johnny & Associates
's group
Kis-My-FT2
, with 990 million yen (12.68 million USD) only in singles, albums and DVDs sales.
[

44

]
2012 : Documentary Film
On April 10, 2012 2PM announced that they will release a documentary film along side with
2AM
called "Beyond The One Day" in
Japan
[

45

]
On April 13, they released the trailer for their documentary film "Beyond The One Day"
[

46

]
Overseas activities
Thailand
2PM made their first overseas performance in Thailand in late February 2009 at the Nine Entertain Awards. On 25 June, they released their "Thailand Special Edition" album, and began promotions in Thailand shortly afterward. 2PM also performed at the Pop Music Awards in Pattaya.
[

47

]
China
2PM advanced into the Chinese market on 25 November 2009 as they met with their Chinese fans at the 2009 Hanryu showcase (Korea-China Music Festival), held in Shanghai, China. 2PM planned to gradually enter the market through promotions and the release of their first full album.
[

citation needed

]
Malaysia & Philippines
JYPE released 2PM first full album 1:59 in Malaysia and Philippines through Sony Music Malaysia and Philippines.
Japan
Their popularity among Japanese fans has grown tremendously since the release of their first official album, 1:59 PM—a 2PM Café just opened up in Shibuya, and all last week, 2PM stole the top five spots on the widely-known Japanese ringtone site called
Recochoku
. Furthermore, the KPop group released their first ever DVD entitled, Hottest, which showcases their entire music video collection as well as some photo shoot footage and a general history of them becoming 2PM. A sneak preview of Hottest was held in Ginza before the release, and the excitement was a sure sign of the product's imminent success, as over 1,000 fans attended the event. The DVD was then available for purchase beginning 23 November and quickly hit number two on the
Oricon
charts. Now, on the second day of sales, it has been reported that the DVD it at #1.
[

48

]
The Japanese music market has been the only international music market so far that 2PM has specifically focused on by releasing exclusive singles and a studio album in Japanese language.
Other activities
Television hosting
In December 2008, 2PM began to host the third season of MBC's
Idol Show
(아이돌군단의 떴다!그녀).
[

49

]
The segment ran from 4 December 2008 to 26 March 2009, with a total of seventeen episodes.
The group also starred in a reality show on M.net, titled "Wild Bunny", in which the members escaped the pressures of stardom by performing ten forbidden activities of idols. The show ran from 21 July 2009 to 1 September 2009, with seven episodes aired; the airing of the final episode, which coincidentally featured the members engaged in a "Leader Olympics" game to select a new leader, was postponed indefinitely due to Jaebeom's internet controversy and his subsequent departure from the group.
[

50

]
In addition, Taecyeon and Wooyoung are hosting SBS (
Seoul Broadcasting System
)'s weekly music show
Inkigayo
, while Jaebeom and Chansung have also made regular appearances on 'Introducing Star Friends'. Since Jaebeom was voted off, Nichkhun replaced his position as the guest. Nichkhun and Wooyoung were also frequent guests on SBS's variety talent show
Star King
between April and October 2009, with the other 2PM members occasionally joining them.
Recently, Taecyeon became a permanent cast member of the second season of
Family Outing
, a celebrity variety show airing on SBS.
[

51

]
Wooyoung is also now a co-host of the
KBS
celebrity talk show
Win Win
.
[

52

]
In March 2010, Junho returned as a permanent cast member of the sports variety show
Dream Team 2
,
[

53

]
also on KBS, for which he was part of the pilot episode in September before having to withdraw due to Jaebeom's controversy. In June 2010, Nichkhun signed on to be a part of the popular
MBC
celebrity reality show
We Got Married
, where he will act as a make-believe husband to
Victoria
of Korean girl group
f(x)
.
[

54

]
Endorsements
In March 2009, 2PM was selected to model for
EXR
, a clothing company in Korea.
[

55

]
In July 2009, the members of 2PM were selected as the representatives of foreign artists by the Thai government-led tourism campaign,
I Love Thailand.
[

56

]
Member Nichkhun has also been selected by the Tourism Authority of Thailand (TAT) as the face of their newest campaign, "Come to Thailand; Let's Take a Break!"
[

57

]
In August 2009, 2PM collaborated with the Body Shop in 'Soft Hands, Kind Heart', a worldwide campaign that calls for the protection of children and teenagers against sex trafficking. The members will act as Korea's spokespeople for the campaign.
[

58

]
In late October 2009, a commercial film (CF) of 2PM promoting Hanami (a Thailand snack company) was released, which also included Jaebeom; the commercial was said to be filmed prior to his departure in September.
November 2009 saw multiple new endorsement deals for the group,
[

59

]
the first of which being a commercial and print campaign for Market O's "Real Brownie" pastry. Shortly thereafter, the group endorsed the
Samsung
Corby mobile phone, one of the newest mobile devices in Samsung's popular "Anycall" series, both on television and on the Samsung website.
[

60

]
2PM is also currently endorsing
Paris-Croissant Food Company
's Paris Baguette bakery franchise, for which the group recorded a special Christmas song and are featured in a series of commercials with popular Korean actress
Kim Tae Hee
.
[

61

]
In 2010, 2PM has signed on to endorse Coca-Cola
[

4

]
as well as the clothing company SPRIS (also known as PONY).
[

62

]
Members Nichkhun, Taecyeon, Junsu and Wooyoung endorse Cass Beer, and Nichkhun has continued advertising for the Suzuki Jelato motorcycle in Thailand. In addition, 2PM now endorses
Calvin Klein
South Korea, as well as, most recently, It's Skin, a South Korean cosmetics and skin care brand.
In mid-2010, 2PM has been chosen along
Girls' Generation
to be the spokesperson for
Caribbean Bay
.
[

64

]
[

65

]
[

66

]
Shortly after, the members of 2PM (expect for
Nichkhun
) were chosen to sing the song "Fly to Seoul (Boom Boom Boom)" to support tourism in Korea
Due to renewal of their endorsement deal with
Samsung
, 2PM recorded the song "Nori For U" for
Samsung Anycall NORi
.
On 8 June 2011, 2PM participated in
Coca Cola
's 125th anniversary event, held at the Canon Plex Gallery in Apgujung, Seoul. To commemorate the milestone, Coca Cola opened an exhibition with their logo collector's items and consumer products at the Gallery. Since they're popular endorsement models for the brand, 2PM were invited to the event and even presented a Coca Cola bottle that they had designed themselves. A giant cake also wowed the crowd with its unique design featuring 125 special bottles and Coca Cola's limited-edition NRGB bottle.
For 2011, 2PM topped the TV commercial charts of the biggest advertising portal site as hit models because they hold the most viewed commercials. 2PM ranked first (Nichkhun), second (2PM), and tenth (Ok Taec Yeon) in the popularity list, tenth (2PM) in total number of commercials, and ninth (2PM) and tenth (Nichkhun) in average ratings. Through this, 2PM have proved that they are TV commercial models loved by both advertisers and consumers. The TV commercial model charts show ranking lists of models based on TV commercials aired on Public TV channels for last 12 months. TVCF's draws its data from commercials aired on the main channels in the past year, and the site divides up its ranks based on the number of commercials starred in, average grades, number of viewers, and downloads, out of these four charts, 2PM stood out in the viewer hit list. A rep from JYP Entertainment stated,
"2PM is not only starring in commercials in Korea, but also in Thailand for the health drink BRAND'S and the body product line Eversense. Countries across Asia such as Indonesia, the Philippines and Japan are sending in love calls for more."
Members
Current
Stage name
Birth name
Date of birth
Position
Romanized
Others
Romanized
Others
Junsu
峻秀
Kim Junsu
김준수
January 15, 1988
Main Vocalist
Nichkhun
นิชคุณ
Nichkhun Buck Horvejkul
นิชคุณ นิชคุณ หรเวชกุล
June 24, 1988
Vocalist, Rapper, Visual
Taecyeon
澤演
Ok Taecyeon
옥택연
December 27, 1988
Main Rapper
Wooyoung
佑榮
Jang Wooyoung
장우영
April 30, 1989
Lead Vocalist, Main Dancer
Junho
俊昊
Lee Junho
이준호
January 25, 1990
Lead Vocalist, Lead Dancer
Chansung
燦盛
Hwang Chansung
황찬성
February 11, 1990
Vocalist, Sub-Rapper, Maknae
Former
Stage name
Birth name
Date of birth
Position
Romanized
Hanja
Romanized
Hangul
Jaebeom
載範
Park Jaebeom
박재범
April 25, 1987
Leader, Vocalist, Main Dancer, Rapper
DISCOGRAPHY
Korean discography
Studio albums
Extended plays
Japanese discography
Reality shows
| | |
| --- | --- |
| Year | Title |
| 2007 | Hot Blood Men |
| 2008 | Idol Show |
| 2009 | Wild Bunny |
| 2011 | 2PM Show! |
Television
| Year | Title | Role | Notes |
| --- | --- | --- | --- |
| 2009 | Style | cameo | |
| 2011 | Boss 2 | cameo | Japanese drama |
Tours and concerts
Year
Tour Name
Dates
Concerts
Tour Date
Set List Song
Start
End
2010
1st Concert: Don't Stop Can't Stop
31 July
(Seoul Olympic Park Arena)
5 Sept.
(Jamsil Indoor Stadium)
6
2011
First Japan Tour: Take Off
6 May
(Zepp Sapporo)
13 May
(Zepp Tokyo)
6
Japan Arena Tour: REPUBLIC OF 2PM
5 Dec.
(Osaka-jo Hall)
21 Dec.
(Nippon Budoukan)
8
(+ 1 pre-show)


2nd Concert: HANDS UP ASIA TOUR
2 Sept.
(Jamsil Indoor Stadium)
10 Mar.
(Asian Expo Arena)
10
2012
Six Beautiful Days
24 May
(Nippon Budoukan)
6 June
(Yokohama Arena)
8


Concert participation
KOREAN
Asia Song Festival
| Year | Nominated work | Award | Result |
| --- | --- | --- | --- |
| 2008 | 2PM | Asian Newcomer's Award | Won |
Year

Nominated work
Award
Result
2009
The First Album 1:59PM
Disk Bonsang Award
Won
Again & Again
Digital Bonsang Award
Nominated
2PM
Samsung YEPP Popularity Award
Nominated
2010
I'll Be Back
Digital Bonsang Award
Nominated
Popularity Award
Nominated
2011
2nd Album: H

and

s Up
Disk Bonsang Award
Nominated
Digital Bonsang
Nominated
Popularity Award
Nominated
Year

Nominated work
Award
Result
2010
2PM
Popularity Award
Won
Bonsang Award
Won
Melon Music Awards
The
Melon Music Awards
are an annual awards show that calculates only digital sales

and

online votes.
Year

Nominated work
Award
Result
2009
2PM
2009 Top 10
Won
2010
2PM
2010 Top 10
Won
2011
2PM
2011 Top 10
Nominated
Popularity
Nominated
H

and

s Up
Song of the

Year

Nominated
Music Video
Nominated
Mnet 20's Choice Awards
The
Mnet 20's Choice Awards
is an awards show honoring the top South Korean musicians of the summer.
Year

Nominated work
Award
Result
2009
2PM
HOT Performance Star
Won
HOT Summer Heat Popularity
Won
2010
2PM
Daum's Search Hot Star Award (Special Award)
Won
Most Influential Stars
Won
2011
2PM
Hot Performance Star
Nominated
Hot CF star
Nominated
Hot Hallyu star
Nominated
Hot Balance star
Nominated
Ok Taecyeon
Best Sixpack
Nominated
KBS Music Festival
Year

Nominated work
Award
Result
2009
Again & Again
Song Of The

Year

Won
Mnet Asian Music Awards
The
Mnet Asian Music Awards
are held annually every

year

to honor the top musicians in South Korea.
Year

Nominated work
Award
Result
2009
2PM
Best Male Group
Won
Artist of the

Year

Won
Again & Again
Best Dance Performance
Nominated
2010
2PM
Best Male Group
Won
The Shilla Duty Free Asian Wave
Won
I'll Be Back
Best Dance Performance

[

2

]

Won
2011
2PM
Best Male Group
Nominated
Asia Model Festival Awards
| Year | Nominated work | Award | Result |
| --- | --- | --- | --- |
| 2010 | 2PM | Popular Artist Award | Won |
| Year | Nominated work | Award | Result |
| --- | --- | --- | --- |
| 2010 | 2PM | Best Popularity Award | Won |
Style Icon Awards
| Year | Nominated work | Award | Result |
| --- | --- | --- | --- |
| 2010 | 2PM | Male Singer Award | Won |
Chinese
| Year | Nominated work | Award | Result |
| --- | --- | --- | --- |
| 2010 | 2PM | Most Popular Asian Singer Award | Won |
Japanese
Year

Nominated work
Award
Result
2012
2PM
The Best 3 New Artists (Asia)
Won
New Artist of the

Year

(Asia)
Won
Hong Kong
RTHK International Pop Poll Awards
| Year | Nominated work | Award | Result |
| --- | --- | --- | --- |
| 2012 | 2PM | Top New Act (Japan) | Won |
Music Programs
These are a collection of 2PM wins on Korea's televised music shows.
Inkigayo
is aired on
SBS
,
M! Countdown
on Korean cable channel Mnet,

and
Music Bank
on
KBS
.
Music Bank
Year

Date
Song
2009
June 12
Again & Again
July 3
I Hate You
November 27
Heartbeat
December 4
December 11
December 18
2010
May 7
Without U
May 14
October 22
I'll Be Back
October 29
2011
July 1
H

and

s Up
July 8
July 15
July 22
Inkigayo
Year

Date
Song
2009
May 10
Again & Again
May 16
May 24
November 29
Heartbeat
December 6
December 13
2010
May 16
Without U
May 23
October 24
I'll Be Back
2011
July 3
H

and

s Up
July 10
M! Countdown
Year

Date
Song
2009
May 7
Again & Again
May 14
May 21
May 28
July 2
I Hate You
July 9
July 16
July 30
2010
April 29
Without U
May 6
May 13
October 28
I'll Be Back
November 4
2011
July 7
H

and

s Up